THE ENVIRONMENT AND SAFETY
Group-GTS is highly committed to the safety of all road users. We ensure the thorough training and permanent evaluation of the drivers. We also play a pioneering role here with our own driving school and mentorship for our new employees.
Group-GTS also stands for sustainable transport. We invest in reducing our CO2 emissions and teach our drivers to drive
in an environmentally responsible way.
Our own driving school and mentorship drivers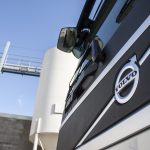 Group-GTS is taking a variety of initiatives relating to safety. For the training and guidance of drivers we have set up an internal driving school at which the truck drivers undergo thorough training and driving lessons, which include instruction films, presentations and a theory and practical examination. They are also given intensive training in handling their vehicle, semi-trailer and chassis and are trained in loading safety and driving and working with ADR material. Only when a new driver has comfortably passed all tests may he or she go out on the road, initially accompanied by a mentor. This is an experienced driver who gives the new colleague good support for the first weeks and teaches him or her the tricks of the trade. Finally, our drivers are permanently evaluated. They are expected at the driving school at specific times for a number of additional checks, and they are also given further thorough training when they are to drive with new material.
Driving style assistant (on-board computer)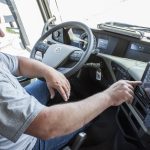 In recent years Group-GTS has invested in high quality on-board computers in all trucks to be able to improve efficiency. This offers the driver and the customer significant advantages with the guarantee of an optimal route (shortened driving time and reduced fuel consumption), while also giving more control over his or her work. In our current climate it is important to keep costs under control and push our fuel consumption down. One of the most efficient ways to be able to achieve this is to adapt driving style with the permanent guidance of the driver. Besides following up the driving style of our drivers, specific training is the best guarantee of sustainable change
in the long term.
Safety Award
In 2016 Group-GTS was rewarded for its continuous efforts involving safety by being honoured with the prestigious Safety Award from the trade journal Transport Media. The trade press and our colleagues are impressed by our general safety, the continuous training of our drivers, the safety policy and the many initiatives we are taking to ensure safe driving behaviour. With this policy we have seen the number of damage cases drop considerably Watch me!
Lean and Green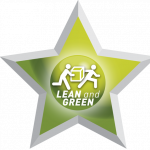 To Group-GTS it is of major social importance that sustainable transport is striven for in all respects. This is not only essential to Group-GTS – our customers also attach great significance to this. The objective was to reduce CO² emissions by at least 20% over a maximum of five years. We at Group-GTS have achieved this aim with flying colours. Permanently investing in the vehicle fleet and training and guiding our drivers has in the meantime also resulted in being honoured with the Lean and Green Award. We want to yet further reduce our ecological footprint by continuing to work on clean energy in the future. Accordingly, in the future we are going to deploy LHV vehicles, the so-called eco-combis measuring 25.25 metres with 60 tons maximum permitted load and CNG and LNG trucks (trucks on gas). The CNG truck ensures greatly reduced CO² emissions and pushes the production of fine dust back to a mere 5%.
Clean energy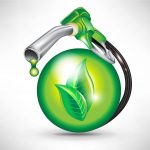 Alternative fuel
Group-GTS is taking part in a joint research project concerning alternative fuels: PL2020. By participating in this project, Group-GTS wants to play a pioneering role in stimulating Flemish dynamism in the direction of alternative fuels in the sector of goods transport by road.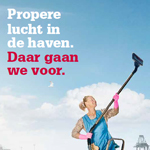 Clean air in the Port of Antwerp
Group-GTS is also involved in a general campaign from the port community to ensure the sustainable
development of the Port of Antwerp. The improvement of the air quality is such a shared ambition. Because a sustainable port with clean air is in everyone's interest. We also help in obtaining healthier air quality by reducing the number of polluting trucks or other vehicles. This initiative is monitored by an air quality investigation.The results will be published in 2018.
Wind turbines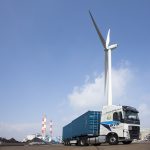 Group-GTS makes its grounds available for the development and expansion of a wind farm.
In so doing we will facilitate the production of local renewable energy. A wind turbine project has already been completed on our site in Tessenderlo.