Group-GTS presents:
The Solutions & Sustainability Business Unit
The sustainability train is obviously not one to be missed. Today as a company it is a must to think about a greener future for society and our loved ones. Besides our world needing it, customers are demanding it too. So we at Group-GTS are fully committed to the venture. Our Solutions & Sustainability Business Unit is the testament to this. Nick Sterckx and Tom Pauchet are leading the way.
Business Unit Manager Nick Sterckx has been part of Group-GTS for five years, transferring from the container department to the Solutions & Sustainability team. Tom Pauchet, an expert in multimodal transport, was appointed Multimodal & Sustainability Manager in June 2021. Today the two are proud to present their brand new sustainability website.
Gentlemen, what was the aim of founding the new Solutions & Sustainability Business Unit?
Nick: "Firstly, to meet the complex demands of our customers. We have long ceased to be the traditional transport company in love with the truck. We are much more than that today. You can call us transport architects. Our goal is to take care of our customers to the extent possible, and to guide their goods flows in the right direction. How do we do that? By fully investing in multimodality as part of our sustainability and in-depth supply chain analysis."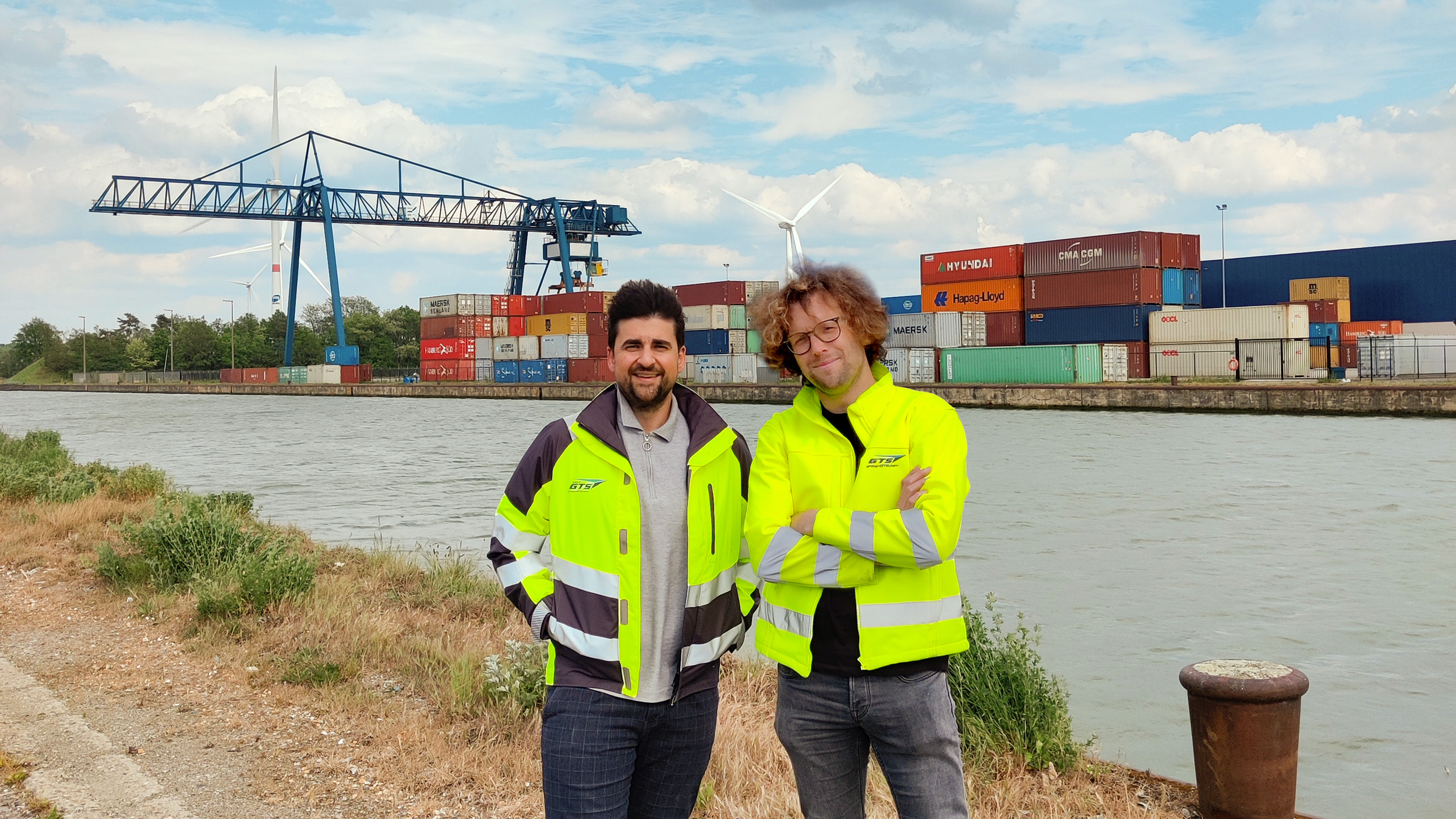 What is the source of your affinity for sustainability?
Tom: "Barging and multimodaliteit have been my whole world and of course they still are. Sustainability was much less so, so I started to look into it. And it turns out to be a fascinating subject, I am learning more each and every day. It is a bit like health and safety ten years ago. Today this has become the norm and we take it for granted that every company is doing its part. That is where we need to go with sustainability. It is important to focus on this for customers and stakeholders, and for the future of our children too."
Nick: "The situation is a little trickier with sustainability. You do not see any direct impact for yourself, as is the case with safety. But it is important to focus on this. It is a new dimension, and the transport sector must also find its way forward with it. If you do not think about it as a transport company, you are actually questioning your right to exist. It is a hot topic that has an incredible impact on our organisation. No one is an expert yet, the market is still forming itself. But the impact will be substantial."
As a young Business Unit you have already achieved some enviable successes. Can you comment on some of the team's achievements?
Tom: "We authored an ambitious multi-year plan together with Greenfish. For 2022 the plan consists of 22 action points, ranging from complex topics such as reducing empty kilometres by 5% to simple initiatives like sorting waste or fitting LED lights. The team leaders monitor the targets closely. In so doing everyone becomes aware of the sustainable mindset."
Nick: "We are also testing alternative fuels such as LNG, HVO100 and a while ago an electric Terberg. We will not rush into buying these vehicles. We will be carrying out extensive testing to see whether it is actually worth the investment. One example is an LHGV (Longer Heavy Goods Vehicle) or eco-combi soon being deployed for our customers. This means 30% less fuel consumption so also lower CO2 and NOx emissions.
We are also currently working on a study in cooperation with the KULeuven university. In the context of a bachelor thesis we are internally and externally investigating the vision of sustainability. The research is currently in a final phase, so stay tuned."
To conclude, I would like to hear about your take on the future?
Tom: "The transport sector does what the customer asks and that is not always in line with sustainability. We have drawn up a good plan to align the two in the future. It is now up to us to link the corporate values of customer centricity and operational excellence with sustainability."
Nick: "We also have to work on the mindset of the people. People do want to pay extra for passenger traffic, for example flights. When it comes to the movement of goods on the other hand, they put the brakes on. They want their package delivered quickly and cheaply. It is quite a challenge to make them realise that transport costs money. And that certainly applies to environmentally friendly transport. We have small margins in the transport sector. We must therefore make sure that our investments are worthwhile in the long term. Or as our CEO Ben Geybels so eloquently puts it: 'it has to be ecologically & economically sound'."
Would you like to know more about
the Solutions & Sustainability Business Unit and their completed projects?